Paddling Montana
32 Great Rivers under the Big Sky
by Hank & Carol Fischer
Reviewed by Thomas J. Elpel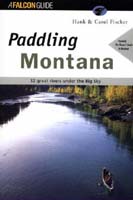 The next best thing to paddling down a river and discovering what is around the next bend, is dreaming and planning to your next trip to do just that. Paddling Montana is the book we use when planning our next great Montana canoeing adventure. Through the pages of this book you can get an overview of each of Montana's primary floating rivers, including essential information detailing access points, river miles between them, optimal flow levels, potential hazards and where to portage, plus sources for more detailed maps and information.

Through this book the history buff can follow the routes of Lewis and Clark along the Missouri, the Jefferson, and the Beaverhead rivers and experience others that the explores named-- the Marias, the Judith, the Gallatin, the Madison, the Dearborn, the Smith. The paddler looking for awesome whitewater finds it on the Gallatin, in the Madison's Beartrap Canyon, and the Clark Fork's Alberton Gorge. The Red Rock, the Swan, and other streams provide opportunities for birders, photographers, and wildlife watchers. Anglers can cast from a boat into the pools and riffles of Rock Creek, the Big Hole River, and many more.

In this updated guide to Montana's rivers, Hank and Carol Fischer even provide details about where and when to go to avoid the crowds, and who to call for up-to-the-minute information on floating conditions. Paddling Montana makes the information easily accessible and can help you plan your next Montana river trip. 2nd Edition, 2008. Falcon Press. ISBN: 978-0762743520. 224 pages.
Paddling Montana: 32 Great Rivers under the Big Sky $17.00 Quantity:
-Please scroll down the page for the "Add to Order" button.-